Let us help you grow your business through the web
Hey Transport is a leading logistics company based in Uganda, specializing in cargo transportation, freight forwarding, shipping, and supply chain management. The company operates in multiple locations, including Uganda, Congo, and Kenya providing cross-border logistics services to clients across the globe.




Case Study: Hey Transport - Enhancing Online Presence and Service Awareness through Website Design
Client Background:
Hey Transport is a leading logistics company based in Uganda, specializing in cargo transportation, freight forwarding, shipping, and supply chain management. The company operates in multiple locations, including Congo, Kenya, Dubai, and Paris, providing cross-border transfer services to clients across the globe.
Client Needs:
Hey Transport approached our web design agency with the objective of improving its online presence, increasing customer engagement, and raising service awareness through a professional and user-friendly website. They needed a website that could effectively showcase their range of services, provide detailed information about their operations, and enable customers to easily request quotes and contact them for inquiries.
Website Design Process:
Our web design team followed a structured and comprehensive process to meet the client's needs and deliver a high-quality website design solution. The key steps of our website design process for Hey Transport included:
Requirement Gathering: We conducted detailed discussions with the Hey Transport team to understand their business goals, target audience, and specific requirements for the website. 

Wireframing and Design Mockups: Based on the requirements, we created wireframes and design mockups to visualize the layout, structure, and visual elements of the website. We focused on creating a clean and professional design that would resonate with Hey Transport's target audience and convey its brand message effectively.

Content Creation and Integration: We worked closely with Hey Transport to develop engaging and informative content for the website. We ensured that the content was search engine optimized, incorporating the relevant keywords to improve the website's visibility in search results. The content was integrated into the website, following best practices for user experience and SEO.

Responsive Web Design: We ensured that the website design was responsive, meaning it would adapt seamlessly to different screen sizes and devices, including desktops, laptops, tablets, and smartphones. This was crucial to provide a user-friendly experience to Hey Transport's customers, regardless of the device they were using to access the website.

Development and Testing: Once the design and content were finalized, our development team implemented the website using modern web technologies and frameworks. We followed a rigorous testing process to ensure that the website was functioning smoothly, without any technical issues or errors.

Launch and Optimization: After thorough testing and review, we launched the Hey Transport website, making it live and accessible to the public. We also implemented ongoing optimization strategies, such as SEO, to continuously improve the website's performance and visibility in search engines.
Results:
The website design and development project for Hey Transport resulted in a professional, user-friendly, and visually appealing website that effectively showcased its services, enhanced its online presence, and raised service awareness. The website received positive feedback from Hey Transport's customers and stakeholders and contributed to increased customer engagement and inquiries. The website also ranked well in search engine results for relevant keywords, such as transport website design, logistics website development, cargo website design, and others, leading to improved organic traffic and visibility.
Software Quality Assurance:
As a part of our website design process, we followed rigorous software quality assurance measures to ensure that the website was free from bugs, errors, and security vulnerabilities. Our team conducted extensive testing, including functional testing, compatibility testing, performance testing, and security testing, to ensure that the website was reliable, secure, and user-friendly.
Conclusion:
Through our website design services, Hey Transport was able to improve its online presence, customer engagement, and service awareness. Our structured website design process, coupled with software quality assurance measures, ensured that the website was professional, visually appealing, and highly functional. The optimized website design also contributed to improved search engine rankings and increased
From The Client
"These guys have built such a strong relationship with our organization that we consider them an extension of our IT department. We always know that excellent service is just a phone call or e-mail away and that we will receive the same level of attention they always provide that makes us feel like we're their top priority."
Get new case studies by email: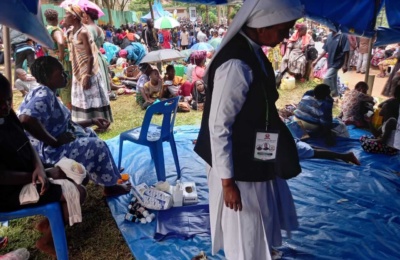 Sisters of Destitute (SD) is a religious congregation of nuns originating from Kerala, India.…