MOBILE APP DEVELOPMENT 
You Dream It,
We Code It
Tap into over a decade-long expertise in building solutions that meet market needs, empower companies' brand identity, and encourage business growth and expansion.
Starts at just $2,499
Delivering  Stellar  Mobile App Development Services
We help brands design and build superior digital products, enabling seamless user experiences across all modern platforms and devices.
Our High-end Mobile App Development Services
We offer a complete cycle of application design, integration and management services. Whether it is a consumer-oriented app or a transformative enterprise-class solution, the company leads the entire mobile app development process from ideation and concept to delivery and ongoing support.
Custom iOS and Android apps development
Native and cross-platform solutions
Second platform app development
UI/UX design
Consulting and prototyping
Automated QA and testing
Power management, notification and geofencing
Embedded Android & AOSP customizations
Maintenance and post-warranty support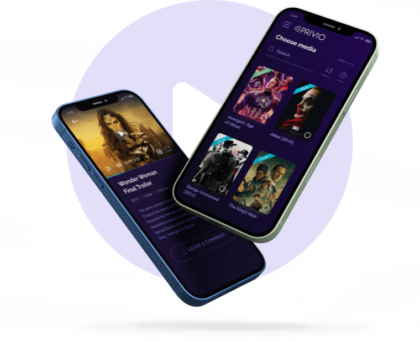 iOS App Development
We have all the expertise you need to produce fully-fledged, stable, and scalable mobile applications, including:
iPhone App Development
iPad App Development
Apple Watch App Development
Apple TV App Development
App Clips Development
Supported: Swift. Objective-C. SwiftUI. CocoaPods. RxSwift. SwiftLint
Android App Development
Using the latest technologies, we help businesses establish their presence on any modern device and platform, including:
Android Mobile App Development
Android TV App Development
Android Tablet App Development
Android Wear App Development
Supported: Cotlin. Java. Graddle. Dagger2. JetPack. Coroutines
Cross-platform App Development
Get top-notch mobile applications that run on multiple platforms costs while providing your users with an app that fits their OS. Use this alternative to reduce costs and time-to-market and to reach more users without loss of quality, including:
Hybrid Mobile App Development
Hybrid Tablet App Development
Hybrid TV App Development
Supported: React Native. Flutter. Native Script. Javascript. TypeScript
Progressive Web App Development
Build Progressive Web Apps that combine the best technical solutions applied in mobile and web applications beneficial in terms of the ease of development and distribution, as well as a number of other advantages for your business. Talk to our experts to discuss:
Cross-browser Web App Development
Responsive Web App Development
Offline Web App Development
Supported: React. Angular. Redux. Polymer. Workbox. Lighthouse
Mobile Application Development Services for Various Platforms
Our mobile app developers have over a decade-long expertise in building solutions that meet market needs, empower companies' brand identity, and encourage business growth and expansion.
Native Mobile App Development
Our mobile app developers can build high-quality native apps for both Android and iOS systems aligned with your business and security requirements.
Progressive Web App Development
With Progressive Web Apps, we deliver native-like capabilities and installability while reaching anyone, anywhere, on any device with a single codebase.
Hybrid Mobile App Development
Cross-platform apps that can work in different environments thanks to a unique blend of native and web app technologies.
Wearables and Embedded Software
We can create companion apps for a number of wearable devices, and integrate them with smart devices or proprietary peripherals.
Chat with a Mobile App  Expert
Have questions about how we can help? Get in touch and we'll help point you in the right direction.
MOBILE APP SOLUTIONS FOR VERTICALS
From startups to enterprises, we've gained vast experience in delivering innovative digital solutions for a wide range of clients across multiple industries.
Construction
Advanced mobile app solutions that take Construction into the Digital Era.
Retail & eCommerce
Engaging mobile software solutions for modern retail.
Insurance
Boost the profitability and safety of your business processes through innovative mobile app solutions.
mHealth
Patient-friendly mobile software that empowers healthcare industry workers.
FinTech
Meet the demands of modern customers in speed and security with scalable financial technology.
Travel & Hospitality
Extend the comfort of your resort with practical mobile software solutions.
EMERGING TECH TO DRIVE MORE VALUE ALONG YOUR DIGITAL JOURNEY
Swift Web Design always keeps track of emerging technologies to deliver forward-thinking solutions. From the highest level of security with blockchain to reliable automation with AI/ML — use every benefit for your solution.
Internet of Things
Use IoT devices to monitor your operations in a secure, well-built infrastructure continually. They will gather Big Data, helping you to streamline these operations, gain spot-on insights, and improve employee decision-making.
Artificial Intelligence
Use AI-based algorithms like machine and deep learning to automate any operation, gain insights from Big Data, ensure fail-safe decisions for your employees, and more.
Augmented Reality
Build 3D prototypes in AR, implement AR enterprise training software, hold meetings in AR - the technology will elevate the efficiency of your operations, and help you cut costs.
Big Data
Create a scalable way to consistently boost your business intelligence, develop a reliable way to analyze your data, and give your employees a convenient way to visualize and understand your customers' preferences and the market's trends.
Blockchain
Use a private blockchain to make your business data more secure, automate key operations with Smart Contracts, create a blockchain-based marketplace, and more.
Cloud Computing
Use our Microsoft Azure and AWS cloud solutions to make your business environment flexible, scalable, and connected. Use our expertise in enterprise applications development to move your mobile strategy to the cloud.
Ready to Grow Your Mobile App Reach?
Share your goals with us and a Mobile App expert will take it from there.
Join an incredible record of organizations, from startups to enterprises, who trust our mobile application development services.
Irene Warner
CEO & Founder
"We have a constant flow of new leads thanks to this amazing SEO company. They gave us all the tools to convert leads into customers." Jeffery Polk
CEO & Founder
"This incredible team managed to not only get us top positions on Google for all of our top keywords, but they kept us there, as well! I would highly recommend this company to anyone."
Gabriel Townsend
Quality Realty Service
Frequently Asked Questions
Why choose Swift mobile app development services?
13 years in mobile app development have allowed us to craft a process that ensures high productivity and efficiency. Swift Web design always keeps track of emerging technologies to deliver forward-thinking solutions and offer first-class mobile application development services.
The latest tech gives you many crucial benefits, from the highest level of security with blockchain — to reliable automation with Artificial Intelligence based algorithms like machine learning. We will also support your app solution after the release to ensure its continuous operation and success.
How to choose a mobile app development platform?
Before choosing a mobile app development platform, consider answering these basic questions:
1) Who is the target audience of your app?
2) What are the users' expectations?
3) What are the development costs?
4) What are the security implications?
5) How well will the mobile app development platform integrate with other platforms?
How to manage product development & mobile application services?
It depends on the contract model you choose.
1) For a Time & Material or Fixed price contact model, we provide a highly experienced Project Manager to be responsible for coordinating the process.
2) For a Dedicated Team contract model, the team's management goes entirely on your side.
What is the cost of mobile app development in 2023?
On the one hand, it isn't really as expensive as most of us may think. On the other, there is no simple answer to this inquiry due to multiple factors at play. Different developer rates, project complexity, and the time it takes to build an app impact the cost of making a mobile application. Talk to our experts to find out the price of your app!
What solutions are provided by mobile app development services?
Generally, our mobile app development services include:
1) Custom iOS and Android app development
2) Progressive Web App development and Cross-platform development
3) UI/UX design services
4) Mobile app porting
5) Consulting and prototyping
6) Automated QA services
7) Power management, notification & geofencing services
8) Embedded Android & AOSP customizations
9) Maintenance and ongoing support
What is the difference between cross-platform app development and hybrid mobile app development?
Since hybrid and cross-platform mobile app development come to aid business flows that require a different approach to mobile development, they are frequently confused as similar methods – which is accurate when comparing them to native builds. However, when compared between themselves, there is a lot to elaborate on.