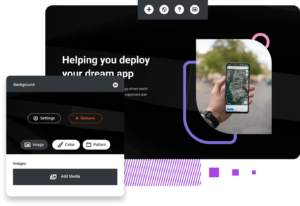 Web Development Services 
Web Development Services
Get the pros to tackle (literally) whatever you need – available on demand or via monthly retainer.
Cross-platform and responsive web development
We provide rigorous testing for all major device types as well as browsers and operating systems before we launch your new website and sign-off the project. Testing is performed both as a user and as an administrator to ensure your site is modern and responsive.
Secured testing environment for your web project
We use complex content gathering tools that allow visualizing content in terms of site architecture, to which we'll make changes within your team before it goes live. Also, you have access to a secured staging or testing environment of your site which is hosted on our servers during the process of your creation.
Expert Web Developers to Tackle Any Request
Now you never have to get stuck. It's never been easier to make progress on your website and free up time to focus on your business.
E-commerce Solutions
Our company has successful solutions to develop ecommerce and shopping cart software for online businesses.
WordPress, Joomla and  Drupal
We develop content management systems (CMS) to enable you to manage site content effectively.
Intranets/Extranets
Our team develops custom solutions for Intranets & Extranet development, Sharepoint integration and knowledge management.
Facebook Applications
We are a leading application development company offering Web, Mobile & Facebook App Development services.
Email Marketing Solutions
We create best-in-class email marketing software to create, send and track email campaigns that will earn results.
PHP and JS Development
We provide software development services in: PHP, Drupal, Python, JavaScript/ jQuery and other modern technologies.
Chat with a Web Developer
Have questions about how we can help? Get in touch and we'll help point you in the right direction.
What can we tackle for you?
Tell us a bit about what you need and we'll put an estimate together.
Have questions about how we can help? Get in touch and we'll help point you in the right direction.
Irene Warner
CEO & Founder
"We have a constant flow of new leads thanks to this amazing SEO company. They gave us all the tools to convert leads into customers." Jeffery Polk
CEO & Founder
"This incredible team managed to not only get us top positions on Google for all of our top keywords, but they kept us there, as well! I would highly recommend this company to anyone."
Gabriel Townsend
Quality Realty Service
The Ways We Can Help
We specialize in a comprehensive range of front-end web development skillsets, meaning we can support pretty much any request you have, from purely aesthetic changes to make your site design better, to advanced backend optimizations.
 Changes to website design or appearance
 Page and menu setup and changes
 Changes to content (e.g. written copy or images)
 Core CMS software updates and maintenance
 Page speed optimization
 Image compression and optimization
 Setting up redirects
 Malware removal
 Diagnostics and repair
 Theme maintenance and optimization
 Plugin installation, configuration, and customization
 Database configuration and optimization
WordPress development such as config file changes, permalinks, MySQL optimization, and fixing connection strings.
Frequently Asked Questions
Do retainer hours "roll over" from one month to the next?
Yes! We automatically allow unused development hours to roll over to the subsequent month. So if you don't take advantage of your hours in one month, you can still use them the next month. However, we do cap your ability to accrue hours at twice the amount of your plan. So if you have a 4 hour retainer, the most you can accrue for use over time is 8 hours – any unused hours beyond that would be lost
Do I have a chance to review the work before it's applied to my live site?
Yes! We don't do any work on a live, production website. Whenever possible, we create a staged 'copy' of your site and apply all your requested changes on it first for you to review. Only once you approve the changes do we roll out the code updates to your live website.
What if I'm not a Swift Web Design customer?
Don't worry, we can still help! We'll obviously need to collect credentials to your existing web host and your website software, but once we have those we should be able to execute your requests. Feel free to contact us with what you need done and we'll happily investigate your situation to confirm this with you.
How long do design tasks take?
Most tasks requested can be performed comfortably within 72 hours. That said, larger, more complex projects can take longer. Should your request require extra time, we'll let you know and provide a timeline that you can approve. For rush requests, we can sometimes get things through faster – just let us know and we'll work with you to confirm whether it's feasible to meet your deadline!
What kind of web software can you work on?
We specialize in WordPress-based websites, but we can usually help execute requests on most web platforms. Reach out with what you need to be done and we'll investigate to let you know if it is feasible or not.